2020 OC 500
BRIAN & ROBIN CHRISTENSON
Wednesday, June 30, 2021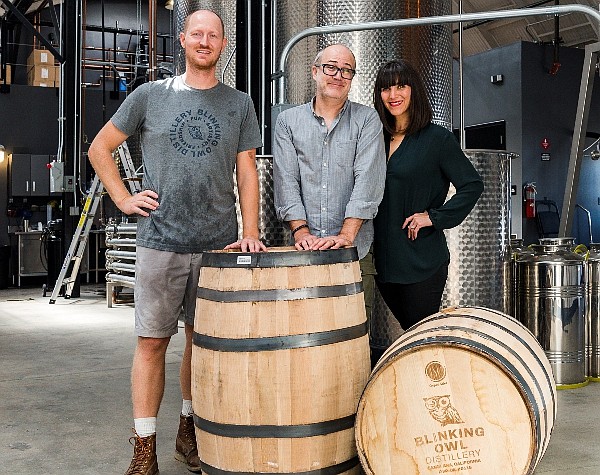 FOUNDERS, OWNERS, BLINKING OWL DISTILLERY
DAY JOB:
Operates the Blinking Owl Distillery in Santa Ana, with a tasting room. Business also has license to sell its bottles of vodka, gin, whiskey and other items to restaurants and bars. Counted about 400 wholesale accounts in California pre-pandemic and had begun servicing orders internationally just before the coronavirus hit.
MAKING A DIFFERENCE:
Company sought FDA approval as a drugmaker and began making hand sanitizer to address country-wide shortage. Orders came in quickly from the county and hospitals, among other places. Produced thousands of bottles on-site at their facility.
NOTABLE:
Filed an application for an on-site kitchen originally slated to open in April. Plans still call for eventual opening. Distillery was temporarily shut down in November following issues with state's Department of Alcoholic and Beverage Control. After pivot to sanitizer, government was among first to purchase their products, with county making initial 7,000-unit order.
QUOTABLE:
"You can't even—no writer could write this story. You can't make it up," Robin Christenson said. "It's just so crazy the path everybody's going to be on. This is at least giving us an opportunity to actually be able to support the community. It's really nice to be needed. It's a good feeling," she told the Business Journal in March at the time of the company's pivot to hand sanitizer production.
FAST FACTS:
Founder Brian Christenson's greatgrandfather, Fred P. Armbrust, was a bootlegger, selling spirits hidden away in the basement of his dairy farm. Couple breathed new life into the midcentury Blinking Owl Bar with the opening of their distillery in 2016.