Midday Stock Roundup
Wednesday, June 16, 2021
Share this article: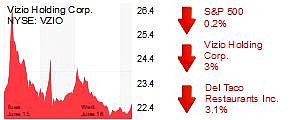 The S&P 500 Index fell 0.2% to 4,237.78 in midday trading.
The Dow Jones Industrial Average declined 0.4% to 34,152.55 and the Nasdaq was off 0.5% to 14,004.92
The yield on a 10-year Treasury bond was down 0.5% to 1.491%.
The price for a barrel of oil fell 0.1% to $72.07.
An ounce of gold rose 0.3% to $1,861.70.
MEDIA
Vizio Holding Corp. (NYSE: VZIO), an Irvine-based TV and media company, dropped 3% to $22.65 and a $4.4 billion market cap. A Needham analyst yesterday reduced her net income forecast, citing the company issuance of a one-time equity grant to senior executives that will vest over one year. Volume was about two-thirds of its daily average.
RESTAURANTS
Del Taco Restaurants Inc. (Nasdaq: TACO) fell 3.1% to $10.50 and a $386 million market cap. Volume was half of its daily average. Shares are still up about 65% in the past year.