Midday Stock Roundup
Monday, June 14, 2021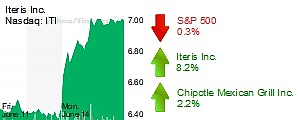 The S&P 500 was down 0.3% in Monday midday trading to 4,237.10.
The Dow Jones Industrial Average fell 0.7% to 34,253.11, while the Nasdaq rose 0.4% to 14,120.29.
Crude oil increased 0.8% to $71.49 a barrel.
Gold decreased 0.8% to $1,864.70.
The yield on a 10-year Treasury surged 2.3% to 1.494%.
TECHNOLOGY
Top movers among Orange County companies Monday include Santa Ana-based Iteris Inc. (Nasdaq: ITI), which jumped 8.2% to $6.98 and a $292 million market cap. Shares for Iteris, which provides high-tech systems and sensors to improve traffic flow and safety, are currently trading at almost one-third their average daily volume and are up more than 60% in the past year.
RESTAURANTS
Chipotle Mexican Grill Inc. (NYSE: CMG) in Newport Beach climbed 2.2% to $1,395.41 and a $39.3 billion market cap. Raymond James analyst Brian Vaccaro upgraded his rating on the restaurant chain from outperform to strong buy on Monday and boosted its target price to $1,800. The upgrade comes after Chipotle raised menu prices by 4%, creating a "significant upside to second half consensus comp expectations," Vaccaro said in a research note.