Midday Stock Roundup
Thursday, June 10, 2021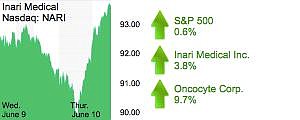 The S&P 500 climbed 0.6% to 4,243.88 in midday trading.
The Dow Jones rose 0.5% to 34,604.39.
The Nasdaq increased 0.7% to 14,009.33.
The yield on a 10-year Treasury was off 1% to 1.471%.
The price of gold was up 0.1% to $1,896.60. 
The price for a barrel of oil decreased 0.1% to $69.89.
HEALTHCARE
Orange County healthcare firms were trending higher in Thursday midday trading, led by Irvine-based cancer test maker Oncocyte Corp. (Nasdaq: OCX). The firm was up 9.7% to $5.43 per share with a $489 million. Shares have more than tripled since the same period last year. 
Irvine-based Inari Medical Inc. (Nasdaq: NARI) rose 3.8% to $92.59 per share with a $4.6 billion market cap. The firm presented data earlier this week that showed its ClotTriever device removed 100% of blood clots in the majority of deep vein thrombosis patients in short single-session procedures. 
Edwards Lifesciences Corp. (NYSE: EW) of Irvine climbed 2.4% to a new all-time high of $99.38 and a $62 billion market cap. The heart valve maker is Orange County's largest publicly traded company.