Midday Stock Roundup
Monday, June 7, 2021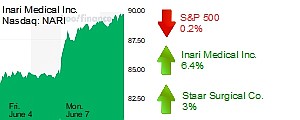 The S&P 500 fell 0.2% to 4,219.70 in Monday midday trading.

The Dow Jones Industrial Average was down 0.4% to 34,607.66.

The Nasdaq increased 0.2% to 13,839.72.

Crude oil dipped 0.2% to $69.49.

Gold rose 0.3% to $1,895.20.

The yield on a 10-year Treasury was up 0.6% to 1.57%.

MEDICAL DEVICES
Orange County healthcare firms were trending up in Monday midday trading, led by Irvine-based Inari Medical Inc. (Nasdaq: NARI). The blood clot removal device maker increased 6.4% to $89.59 and a $4.5 billion market cap after announcing positive preliminary results from its ClotTriever Outcomes Registry, with the ClotTriever device removing 100% of blood clots in the majority of deep vein thrombosis patients enrolled in the study.

Lake Forest-based Staar Surgical Co. (Nasdaq: STAA) rose 3% to $141.51 for a market cap of $6.6 billion. Shares in the company are up 74% since the start of the year.

 Shares of Glaukos Corp. (NYSE: GKOS) were up 3.8% to $76.47 and a $3.6 billion market cap. The Aliso Viejo-based medical device maker are up more than 5% in the past week.