Midday Stock Roundup
Wednesday, June 2, 2021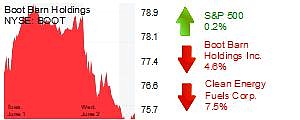 The S&P 500 rose 0.2% to 4,208.17.
The Dow Jones Industrial Average was up 0.1% to 34,606.42, while the Nasdaq climbed 0.1% to 13,750.31.
Crude oil increased 1.4% to $68.65 a barrel.
Gold was up 0.2% to $1,908.60.
The yield on a 10-year Treasury fell 1.4% to 1.593%.
RETAIL
Irvine-based Boot Barn (NYSE: BOOT) was off 4.6% to $75.25 and a $2.2 billion market cap. Shares for the western retailer are currently trading at about a fourth their average volume.
HEALTHCARE 
Tarsus Pharmaceuticals Inc. (Nasdaq: TARS) dropped 7.5% to $33.01 and a $678 million market cap. The Irvine-based late clinical stage biopharmaceutical company is scheduled to give a presentation today at the Jefferies Virtual Healthcare Conference. Shares are still up 23% since May 11 when it announced first quarter results.