Midday Stock Roundup
Tuesday, July 20, 2021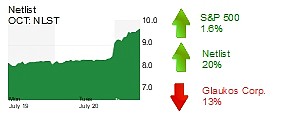 Major U.S. stock indexes rose, recouping some of the losses suffered yesterday as fears of a pandemic resurgence swept through the markets.
The S&P 500 was up 1.6% to 4,326,29 during midday trading.
The Dow Jones Industrial Average rose 1.8% to 34,583.97.
The Nasdaq climbed 1.6% to 14,495.71.
The yield on a 10-year Treasury bond rose 3.2% to 1.22%.
The price of gold was flat at $1,809.50.
The price for a barrel of oil increased 0.8% to $66.96.
TECHNOLOGY
Irvine-based memory products maker Netlist (OCT: NLST) jumped 20% to $9.70 per share for a market cap of $2.1 billion. The shares have gained more than 350% over the past month, while website SmallCapExclusive.com said earlier today that Netlist last week announced the signing of a Securities Purchase Agreement with the firm Lincoln Park Capital Inc. The agreement provides for Lincoln to acquire $17.4 million worth of Netlist shares over the next 36 months, according to the website.
HEALTHCARE
San Clemente-based glaucoma device maker Glaukos Corp. (NYSE: GKOS) dropped 13% to $49.05 per share for a market cap of $2.3 billion. BofA Securities is maintaining an underperform rating for the stock after the Centers for Medicare and Medicaid Services (CMS) earlier this month released its proposed physician fee schedule for fiscal year 2022 that Glaukos said was "unwelcomed and unexpected news."