Midday Stock Roundup
Tuesday, July 13, 2021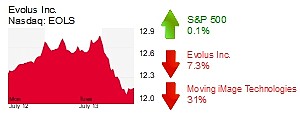 The S&P 500 was up 0.1% to 4,389.02 during midday trading.
The Dow Jones Industrial Average fell 0.1% to 34,962.15.
The Nasdaq climbed 0.4% to 14,794.53.
The yield on a 10-year Treasury bond was flat at 1.363%.
The price of gold increased 0.4% to $1,812.60.
The price for a barrel of oil rose 1.7% to $75.33.
HEALTHCARE
Newport Beach aesthetics company Evolus Inc. (Nasdaq: EOLS) fell 7.3% to $12.15 per share for a market cap of $702.5 million. Still the shares are up 260% since the start of the year. Earlier this month, the Motley Fool website said: "This is a stock that will require lots of sales growth in order to provide strong returns for investors over the long haul."
TECHNOLOGY
Moving iMage Technologies Inc. (NYSE: MITQ), which began public trading on July 8 at a price of $3 per share and quickly rose, fell 31% to $7.45 per share for a market cap of $73.9 million. The Fountain Valley-based digital cinema company, which designs, manufactures, integrates, installs and distributes proprietary and custom-designed equipment, earlier today announced the closing of the upsized initial public offering that raised $14.5 million.