Midday Stock Roundup
Monday, January 11, 2021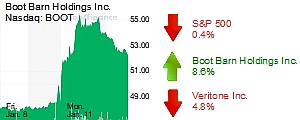 The S&P 500 decreased 0.4% in Monday midday trading to 3,809.78.
The Dow Jones Industrial Average was down 0.2% to 31,033.64, while the Nasdaq fell 0.7% to 13,106.43.
Crude oil was flat at $52.23 a barrel.
Gold was up 0.8% to $1,849.70.
The yield on a 10-year Treasury increased 2.4% to 1.13%.
RETAIL
Irvine-based Boot Barn (NYSE: BOOT) rose 8.6% to $52.78 and a $1.5 billion market cap after the western retailer announced positive preliminary third quarter results. The company said net sales during the quarter ending Dec. 26 rose 6.5% to nearly $302.3 million and same store net sales grew 4.6%. Shares for the company are currently trading at nearly twice their average volume.
TECHNOLOGY
Costa Mesa-based Veritone Inc. (Nasdaq: VERI) decreased 4.8% to $36.60 and a $1.2 billion market cap. The company said Monday it has entered a partnership with data analytics firm Alteryx Inc. to deliver AI-powered insights into unstructured data sources including video, images, audio and text to Alteryx customers. Shares in Alteryx are down 2.6% to $113.50 apiece for a market cap of $7.6 billion.
RESTAURANTS
Newport Beach-based Chipotle Mexican Grill (NYSE: CMG) rose 1% to $1,415.45 after the company said it's hoping to fill some 15,000 positions at its restaurants during a hiring event Thursday as the company sees opening as many as 200 locations in the future. The company has a current market cap of $39.6 billion.