Midday Stock Roundup
Thursday, January 7, 2021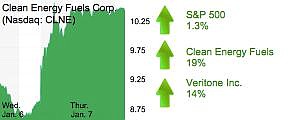 Indexes climbed in midday trading after Congress on Wednesday night finished certifying Joe Biden's Electoral College presidential victory.
The S&P 500 rose 1.3% to 3,798.55 in midday trading.
The Dow Jones Industrial Average climbed 0.7% to 31,057.40, while the Nasdaq increased 2.2% to 13,019.30.
Crude oil rose 0.3% to $50.77 a barrel.
Gold was up 0.2% to $1,912.60.
The yield on a 10-year Treasury increased 3.6% to 1.08%.
ENERGY
Clean Energy Fuels Corp. (Nasdaq: CLNE), OC's largest public clean tech firm, jumped 19% to $10.72 for a $2 billion market cap. Shares of the Newport Beach-based company have more than doubled since December.
TECHNOLOGY
Costa Mesa-based artificial intelligence company Veritone Inc. (Nasdaq: VERI) soared 14% to $30.66 for a market cap of $971 million. The company, which is trading lower than its average daily volume, is still up by more than 1,000% compared to a year ago.