Midday Stock Roundup
Wednesday, January 6, 2021
Share this article: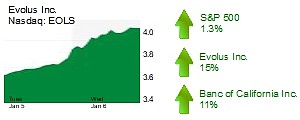 Indexes jumped in midday trading on prospects of Democrat control of the Senate will lead to higher government spending.
The S&P 500 climbed 1.3% to 3,775.96 while the Dow Jones Industrial Average increased 1.9% to 30,961.18 and the Nasdaq rose 0.4% to 12,871.30.
The yield on a 10-year Treasury bond increased 9.8% to 1.049%.
Oil climbed 1.8% to $50.85 a barrel.
The price of gold fell 2.4% to $1,908 per ounce.
DRUG MAKER
Newport Beach-based Evolus Inc. (Nasdaq: EOLS) jumped 15% to $4.05 a share and a $137 million market cap. The provider of aesthetic products to remove wrinkles revealed it has paid Oxford Finance LLC $76.4 million to discharge all its outstanding obligations.
FINANCE
Santa Ana-based Banc of California Inc. (NYSE: BANC) rose 11% to $17.13 and an $859 million market cap. Other Orange County-based banks also increased including Pacific Premier Bancorp Inc. (Nasdaq: PPBI), up 9.7% to $34.50 and a $3.3 billion market cap, First Foundation Inc. (Nasdaq: FFWM), up 4.9% to $20.92 and a $934 million market cap, and Pacific Mercantile Bancorp. (Nasdaq: PMBC), up 4.4% to $5.43 and a $129 million market cap. The KBW Nasdaq Bank Index, which tracks regional banks, jumped 7.6% to 105.53.