Masimo's Moment
JOE KIANI'S BIG PIVOT HELPS FIGHT CORONAVIRUS, BOOSTS DEVICE MAKER'S VALUE
Wednesday, January 6, 2021
Share this article: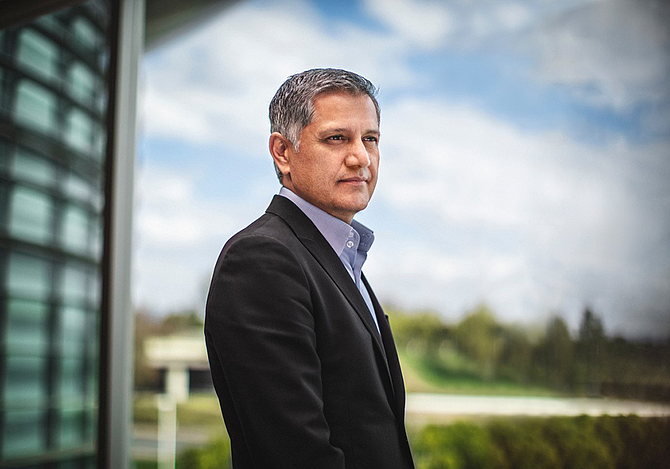 Joe Kiani at the end of February predicted his Masimo Corp. would grow 10% to $1.035 billion in annual sales in 2020.
Now, the medical device maker is forecasting a 21% sales jump to $1.13 billion—or almost $200 million more than last year—as hospitals around the world rushed to stock up on its valuable equipment that provides remote monitoring of patients infected with the coronavirus.
The native of Iran, who moved to the U.S. at age 9 knowing only three words of English, has come a long way since he started the company in a garage in 1989.
Today, Masimo's technologies are used to monitor more than 200 million patients annually—including those receiving treatment for COVID-19 in hospitals, in parking garages converted into field units, and even in the home. Masimo's devices are the primary pulse oximetry technology at nine of the top 10 hospitals listed by U.S. News & World Report's Best Hospitals Honor Roll.
The Irvine-based device maker's secret to success in a year that took the world by surprise?
"We're a billion-dollar company run like a startup," Kiani told the Business Journal in a December interview.
The company (Nasdaq: MASI) almost doubled its market capitalization in the past 12 months to $14.7 billion and is now the fourth-largest public company based in Orange County.
For Masimo's role in fighting the coronavirus, as well as for his headline-making efforts in patient safety work, media and politics (see story, this page), Kiani is the Business Journal's Business Person of the Year in the healthcare sector.
Opioid Headstart
Masimo makes products it calls Signal Extraction Technology (SET),­ pulse oximetry devices that help doctors and nurses monitor blood, oxygen and other key metrics of patients without needles.
These devices often cost thousands of dollars, which is why its main customers are hospitals.
Kiani saw a need for a device priced for consumers to use in their homes when taking prescription opioids, which he says have caused thousands of unwarranted deaths.
When the pandemic struck, Masimo adapted one of its pulse oximetry devices—intended to monitor vital signs of opioid users in the home—into a product for COVID-19 patients.
It received federal clearance within a week and started marketing its SafetyNet product that allows physicians to direct patients with mild-to-moderate COVID-19 symptoms to return home.
"By implementing Masimo SafetyNet, hospitals can save their scarce beds for the more severe cases of COVID, preserving capacity while safely watching over the patients they have sent home or elsewhere," Kiani said.
The devices have allowed hospitals "to monitor tens of thousands of patients who otherwise wouldn't have the ability to be monitored."
Since the full market release in mid-April, more than 140 hospital and health customers have deployed Masimo SafetyNet and over 2,000 additional customers are evaluating the technology, Kiani said in October.
The company this year has also launched a series of at-home products that help clinicians monitor oxygen and blood metrics, temperature and sleep patterns.
Clinical Differentiator
Kiani, who has engineering degrees from San Diego State University, is the son of an engineer and a nurse. His father, who passed away last year, shared "a lot of the wisdom that I now have as a 55-year-old man," he said.
"He would constantly give me incredible advice and insight [such as] how you can overcome anything with positive thinking. He was an amazing force in life and he's greatly missed."
Masimo is the combination of his given name Massi and his co-founder, Mohamed Diab, who is a senior researcher at the company.
When Masimo went public in 2007, some analysts doubted that the company's rapid pace of innovation could be sustainable. Kiani said positive thinking and following the company's principles have led to its success.
"It's been 32 years in the making," he said. "We're no overnight success story, but it's wonderful to get here."
The Hard Part
One differentiator for the company is its clinical rigor—"the hard part," per Kiani.
"Anyone can make a $20 gadget, but not everyone can do what we do. We have really accurate, reliable and robust measurements. The reason this thing works in mass scale for COVID [patients] is because people trust our measurements."
Masimo, which is currently suing Apple for patent infringement, has also brought attention to problems with the accuracy of the sensor of the Apple's Series 6 Watch, which it says could lead patients to seek unnecessary or avoid much needed medical attention. Kiani said last February that Apple recruited 10 of its employees in this sector.
Priority on Patients
Patient care and safety have been a driving cause for Kiani.
He is the founder of Irvine-based nonprofit Patient Safety Movement Foundation, an organization that provides actionable steps for reducing patient harm via human error and encourages hospitals and device companies to share data for improved patient care.
Kiani was honored with an Award for Improvement of Neonatal Health in Latin America by the Ibero-American Society of Neonatology in November.
The award came about a year after the approval of the company's Measure-Through Motion and Low Perfusion SET for infants, which has been shown to reduce neonatal blindness.
Up next for Kiani and Masimo, he says the company will continue to work with the Food and Drug Administration on its SafetyNet product for opioid monitoring.
About 70,000 lives are lost to opioid abuse and overdoses per year, which based on the number of prescription drug users alone, represents a $10 billion a year market opportunity, Kiani said.
Looking back on the year, Kiani said despite the lows it "forced us to bring back some calmness into our lives. We're not all running around. We're focusing more on time with our families and the people in our own households. I think it's helping all of us get that 20/20 vision or perspective in our lives. It's been a good year to reflect and move forward."
Joe Kiani Talks Social, Political Issues
While Joe Kiani considers his work his main hobby, he's also passionate about spending time with his family, and social issues like politics and patient safety.
"I feel a sense of responsibility that when you can do something that is good for the world, you should do it," Kiani said of his work that includes starting the Patient Safety Foundation Movement.
Other activities? Kiani organized a local protest in support of Black Lives Matter, campaigned for Joe Biden and hosted a fundraiser for him at his home early in the campaign, and along with actors Chris Evans and Mark Kassen launched a media channel A Starting Point to educate and encourage younger people to vote.
Below, Kiani shares a few of his thoughts on some of his most recent endeavors.
• On launching A Starting Point: "I was so disappointed that in 2016, about 5 million [young] people that could have voted didn't. I started thinking about how to get younger people to feel good about voting. A Starting Point helps them understand the issues that we face."
• On campaigning for Joe Biden: "The main reason I wanted Joe Biden to become our President is because he is a really decent human being. I've met a lot of elected officials, but some are exceptional in terms of levels of empathy levels of experience, kindness and intention. He is that. Second, I felt that if anyone could unite the country, it [would be] Joe Biden. I think he'll do a great job reaching out to people on the Senate floor and the House, and he'll bring back some decency to our democracy."
—Jessie Yount