Del Taco Breathes New Life Into Restaurant Design
Wednesday, January 6, 2021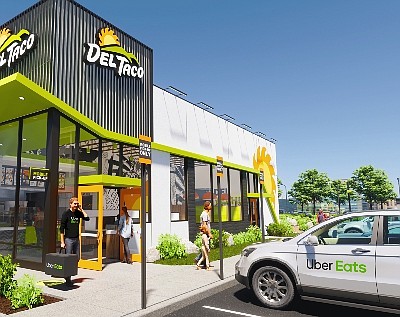 Del Taco Restaurants Inc. (Nasdaq: TACO) has pulled the lid off a new restaurant design, called Fresh Flex, that addresses the ramp-up in third-party delivery, mobile ordering and drive-thru orders.
The company, which counts about 600 restaurants in 16 states, revealed the prototype this week, saying the aim of the new design was focused on expediting orders and also branding, with the kitchen visible and ingredients on display inside restaurants.
Fresh Flex creates space for third-party delivery pick-up, dual drive-thru lanes and a parking lot for guests looking to eat in their car.
The company said this new version of its restaurants could range from 1,200 to 2,400 square feet.
Del Taco COO Chad Gretzema said "each new restaurant size scales around the kitchen."
The restaurant operator tapped MY Studio ID for help with the design.
Del Taco, with a recent market cap of $361 million, joins a growing roster of restaurant operators that have reconfigured their store designs to focus on the spike in digital and to-go orders last year.
Locally, Irvine-based Taco Bell Corp. said in August it would launch a new Taco Bell Go Mobile concept in the first quarter of this year. The new design places greater focus on expediting the off-premise business with dual drive-thru lanes, curbside pickup and integration with its app to determine the fastest way for customers to pick up an order upon arrival.
Newport Beach-based Chipotle Mexican Grill Inc. (NYSE: CMG), with a market cap of $38 billion, in November opened its first Chipotle Digital Kitchen. The first of the concept opened in New York and is open for pick-up and delivery only. Plans call for the digital kitchen to be rolled out to other markets where a smaller size footprint is required.