Midday Stock Roundup
Monday, January 4, 2021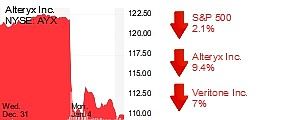 Major U.S. stock indexes fell in Monday midday trading amid new concerns over a spike in coronavirus cases following the holidays.
The S&P 500 was down 2.1% to 3,677.63 in midday trading.
The Dow Jones Industrial Average slipped 2% to 30,013.48, while the Nasdaq decreased 2.1% to 12,624.59.
Crude oil was off 2.1% to $47.51.
Gold increased 2.3% to $1,938.
The yield on a 10-year Treasury was down 0.4% to 0.91%.
TECHNOLOGY
Orange County technology stocks were trending down in midday trading led by Irvine-based Alteryx Inc. (NYSE: AYX) which fell 9.4% to $110.35 and a $7.3 billion market cap. Shares for the company, which makes and sells data analytics software, are currently trading at nearly twice their average daily volume and are about flat in the past year.
Costa Mesa-based Veritone Inc. (Nasdaq: VERI) decreased 7% to $26.44 and a $831 million market cap. The stock price for the artificial intelligence media company is up significantly from last January when shares were trading at about $2.60 a piece.
Irvine-based CalAmp Corp. (Nasdaq: CAMP) was down 5.8% to $9.35 and a $328 million market cap; Irvine's Skyworks Solutions Inc. (Nasdaq: SWKS) dipped 2.3% to $149.35 a share for a market cap of $24.8 billion.