Midday Stock Roundup
Thursday, February 25, 2021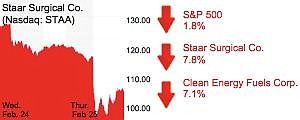 Indexes fell in midday trading as tech stocks continued their declines.
The S&P 500 slid 1.8% to 3,854.07.
The Dow Jones Industrial Average was down 1.3% to 31,560.21.
The Nasdaq declined 2.6% to 13,242.42.
Crude oil rose 0.2% to $63.35 a barrel.
Gold slumped 1.1% to $1,779.20.
The yield on a 10-year Treasury increased 5.7% to 1.468%.
HEALTHCARE
Lake Forest-based Staar Surgical Co. (Nasdaq: STAA) slumped 7.8% to $106.98 with a $4.9 billion market cap. The implantable lens maker reported yesterday full-year 2020 sales of $45.9 million, up 18% compared to 2019. Shares are up 31% since the beginning of the year. 
RENEWABLE ENERGY
Clean Energy Fuels Corp. (Nasdaq: CLNE) fell 7.1% to $12.83 for a $2.5 billion market cap. Shares of the Newport Beach firm have increased sixfold since Joe Biden won the presidency.