Midday Stock Roundup
Wednesday, February 24, 2021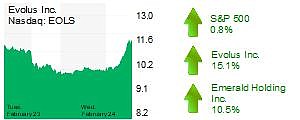 The S&P 500 was up 0.8% in midday trading to 3,912.79.


The Dow Jones Industrial Average increased 1% to 31,869.61.
Nasdaq rose 0.5% to 13,538.81.
Crude oil increased 2.2% to $63.04 a barrel.
The price of gold decreased 0.3% to $1,799.90 an ounce.
The yield on a 10-year bond ticked 0.9% higher to 1.37%.
DRUG MAKER
Evolus Inc. (Nasdaq: EOLS) jumped 15.1% to $11.35 and a $380 million market cap. Shares of the Newport Beach-based aesthetics drug maker have climbed nearly 60% since last week, when the company announced it had reached a settlement with Irvine-based Allergan Aesthetics, a unit of AbbVie Inc. (NYSE: ABBV). The agreement allows Evolus to continue doing business in the U.S. with its wrinkle-smoothening Jeuveau, a competitor to Allergan's Botox.
SERVICES 

Emerald Holding Inc. (NYSE: EEX) rose 10.5% to $5.43 and a $388 million market cap. Shares of the San Juan Capistrano-based provider of trade shows have nearly doubled since November on news of coronavirus vaccine approvals.