Midday Stock Roundup
Friday, February 12, 2021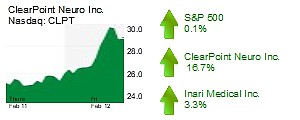 The S&P 500 was up 0.1% to 3,919.17 in midday trading Friday.
The Dow Jones Industrial Average was down 0.2% to 31,381.85, while the Nasdaq was up 0.1% to 14,039.84.
Crude oil increased 2.6% to $59.76.
Gold fell 0.1% to $1,824.70.
The yield on a 10-year Treasury was up 2.8% to 1.19%.
HEALTHCARE
Irvine-based medical device maker ClearPoint Neuro Inc. (Nasdaq: CLPT) jumped 16.7% to $29.69, a day after confirming a multi-product development deal with Blackrock Microsystems. The agreement is expected to help expand ClearPoint's reach into new neurosurgery markets. The company had a recent market cap of $498.6 million.
Inari Medical Inc. (Nasdaq: NARI), a blood clot removal device maker, rose 3.3% to $116.76. The Irvine-based company, with a recent market cap of $5.7 billion, is up about 38% from the start of the year.