Midday Stock Roundup
Wednesday, February 10, 2021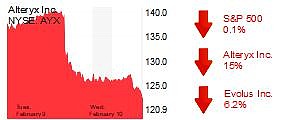 The S&P 500 was down 0.1% to 3,906.09 in Wednesday midday trading.
The Dow Jones Industrial Average was flat at 31,384.74 while the Nasdaq decreased 0.2% to 13,972.22.
Crude oil rose 0.6% to $58.72 a barrel.
Gold was up 0.3% to $1,843.20.
The yield on a 10-year Treasury fell 1.5% to 1.14%.
TECHNOLOGY
Shares in Irvine-based data analytics maker Alteryx (NYSE: AYX) dropped 15% to $117.82 and a $7.8 billion market cap after the company predicted that revenue will slow in the current quarter following an increase in the final three months of last year. Wednesday's decline comes after a more than 7% drop Tuesday.
Digital advertising tech company Viant Technology Inc. (Nasdaq: DSP) in Irvine made its public trading debut today, and the shares promptly shot up to double the revised pricing range. Shares were trading at $45.50 as of 12.17 p.m. in New York on the Nasdaq index. That gave the company a market cap of $2.5 billion, according to news agency Reuters.
HEALTHCARE
Newport Beach-based Evolus Inc. (Nasdaq: EOLS) was down 6.2% to $7.27 a share at midday trading with a $246 million market cap. Shares of the Newport Beach-based aesthetics drug maker, currently trading at about half their average daily volume, are down about 10% in the past week but have still more than doubled since the start of the year.