Georgia's Restaurant Brings Southern Hospitality to OC
RESTAURANTS: ADAPTS TO COVID, EYES FRANCHISING
Monday, February 1, 2021
Share this article: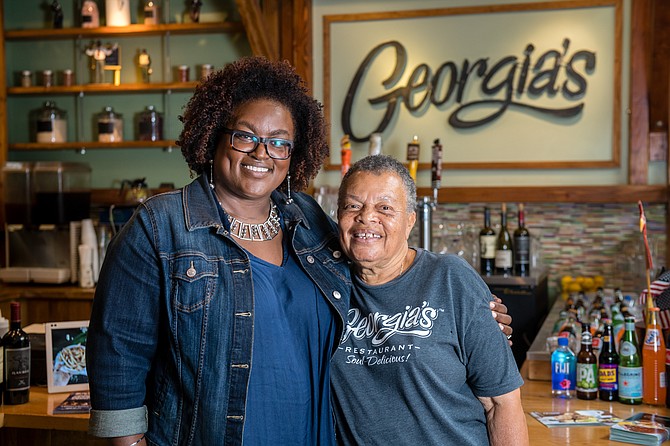 Its name implies either a chef named Georgia or cuisine from that southern state.

Wrong on both counts.

Georgia's Restaurant has been serving Southern-style cuisine for seven years at the Packing House in Anaheim and, since July 2019, at the Long Beach Exchange.

The founder of Georgia's Restaurant is Gretchen Shoemaker (known to everyone as Nana), a native of Philadelphia who married her high school sweetheart, George, and moved west with him to Lake Forest.

While raising three daughters, Gretchen launched a successful catering business built on family recipes that delivered a true home-cooked experience.

Early every morning, Gretchen got busy in the kitchen with George by her side as sous-chef.

After the passing of George Shoemaker in the early 1990s, everything came to an abrupt halt and the catering business was temporarily put on hold.

Twenty years later, daughter Nika Shoemaker-Machado and her husband, Marlon Machado, approached Gretchen with the idea of expanding Gretchen's catering business into a brick-and-mortar restaurant.

Georgia's Restaurant was born.

Anaheim's Anchor

The Packing House location was not the first choice, but it proved to be the best one.

Nana lives with Nika and her husband in Lake Forest, and had planned to open a restaurant near their home.

"We needed a little backing money, but banks were nervous about us opening with our Southern-style menu there in Lake Forest," recalled Nika.

"When the option of the Packing House opened up, the bank said, 'you'll be part of a collective, no problem.'"

"We are the anchor of the Packing House," she said. "It's one of those things that makes me proud."

"Georgia's is a perfect example of why we are in business and why we love what we do," said LAB Holding LLC CEO Shaheen Sadeghi, who owns the Packing House.

"When I first met Gretchen, who is a beautiful and most soulful person, I could not help feel the energy, positive vibes and an incredible aura," he said. "Five minutes into our conversation, I had no option but to offer her the chance" to start the restaurant in Anaheim.

"For me it was an easy decision and risk, well worth the passion and love Gretchen puts out. I knew immediately that she would be a superstar," Sadeghi said.

And in case you're wondering, Georgia's Restaurant is named in memory of patriarch George, with the addition of a single letter from each daughter's name.

"I love it when people come up to me and say 'girl, I know you're from Georgia' and I say, 'Oh girl, I'm not.' I'm from Orange County by way of Pennsylvania," laughed Nana, 81, speaking to the Business Journal last week.

"I am so blessed to be in California, to be in Orange County."

California-Friendly Menu

I told Nana and Nika that I dined at the Long Beach location recently and devoured the jambalaya, fried green tomatoes, mac n' cheese, corn bread, and peach cobbler. It was difficult to make a decision because the entire menu was enticing.

"We're really proud of the menu," said Nika, who noted that during her catering years, Nana cooked "everything underneath the sun. We knew we wanted to highlight her Southern recipes, and also wanted a California-friendly menu."

Nika said the jambalaya has a tomato-based sauce unlike traditional jambalaya because George liked it that way.

"And you liked it—thank you," Nana told me with pride in her voice.

Running a catering business is one thing, but operating a full-blown restaurant is a different experience as Nika soon found out.

"If we had thought about it now, if we knew how hard opening a restaurant is, maintaining it, all the things that come into play, we would probably reevaluate that," admitted Nika. "It's one of those things that's a love and a passion, but at the same time, it can be so frustrating."

Hospitality Focus

The frustration was reduced a bit because news had come that day that coronavirus restrictions were being lifted and outdoor dining could resume.

"That's big news for us," said Nika.

"We can get back to opening our patio. Since COVID, we have had to drop some of our brand identity, which is southern hospitality. We want people to come to our tables and enjoy a meal as if they were at our home. That is the one component that has been missing during these times. We are happy and excited about outside dining. Our staff is trained on hospitality, making each visit feel as warm as possible."

I can vouch for that. During my brief visit at Georgia's, everyone I encountered was friendly and helpful, offering menu suggestions and making me feel welcome.

Nika mentioned that during non-COVID times, she and Nana visit the restaurants several times a week to greet customers and give people that sense of family.

So, with two successful restaurants, any thought of expanding?

"We have been looking," said Nika. "We have feelers out there, but when COVID hit, we agreed to keep our heads down and work our way through it."

Summer Support

Nika said that Georgia's Restaurant got an unexpected boost after George Floyd died last summer.

"There was a focus on Black-owned businesses, which helped us during the summer," Nika said.

"That gave us confidence; we knew we could come through this and continue with what our goals are."

Nika and her husband, Marlon, have explored the potential for franchising, and are saving it as an option once things return to some sense of normal.

Georgia's menu is fairly extensive, a far cry from the early days at the Packing House when the slim menu boasted a handful of items.

Nana and Nika have been adding to the menu. Highlights include blackened catfish with dirty rice, pulled pork ("get it in a slider," recommended Nika), smothered pork chops with bacon gravy and mashed potatoes, and blackened chicken pasta.

Nana spent most of her life cooking, but admits that at 81, she likes being the queen and having Niki do the cooking—when they're not ordering food to go from Georgia's Restaurant.

Georgia's at The Packing House: 440 S. Anaheim Blvd., Ste. 209A, Anaheim, (714) 906-1900, georgias-restaurant.com

Georgia's at LBX: 4101 McGowen St., Ste. 155, Long Beach, (562) 420-5637, georgias-restaurant.com

...