Midday Stock Roundup
Wednesday, December 22, 2021
Share this article: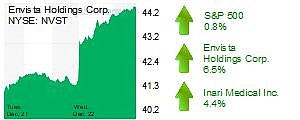 The S&P 500 rose 0.8% to 4,687.58 in midday trading.
The Dow Jones Industrial Average climbed 0.6% to 35,716.11.
The Nasdaq increased 0.8% to 15,470.23.
The yield on a 10-year Treasury bond dropped 1.8% to 1.46%.
 The price of gold grew 0.6% at $1,800 an ounce.
Crude oil was up 0.4% to $72.14 a barrel.
MEDICAL DEVICES
Envista Holdings Corporation (NYSE: NVST) climbed 6.5% to $44.30 and a $7.1 billion market cap. The Brea-based provider of dental products today agreed to buy Carestream Dental's Intra-Oral Scanner (IOS) business for $600 million, saying the buy adds a "high growth, high margin" business.
Inari Medical Inc. (Nasdaq: NARI) rose 4.4% to $88.76 and a $4.5 billion market cap. Shares of the Irvine-based maker of blood clot removal devices are up about 14% since Nov. 29.