Chipotle's Next Digital Kitchen to Tout Chipotlane
Thursday, December 16, 2021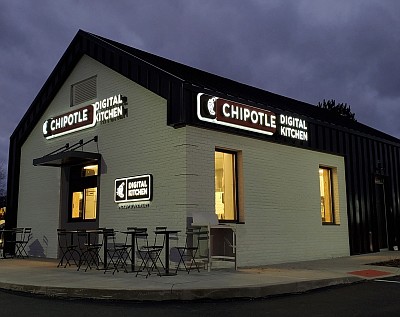 Chipotle Mexican Grill Inc. (NYSE: CMG) said Thursday it plans to open this month a new design prototype that would blend its digital kitchen concept with the Chipotlane.
The restaurant location in Cuyahoga Falls, Ohio will feature the digital kitchen design, which has a smaller real estate footprint than regular Chipotles. The digital kitchens are designed to accommodate Chipotle app and other digital orders, with no indoor seating. Orders are picked up through the Chipotlane drive-thru lane or a window customers can walk up to.
The company said it has about 300 restaurants touting a Chipotlane and 12 existing locations were remodeled to accommodate digital orders.
Chipotle now totals about 3,000 restaurants with plans to eventually double that count in North America.
Shares of Chipotle were trading down 1.1% in midday trading Thursday to $1,683.21. The company had a recent market cap of $47.4 billion.