Wraps Pulled Off Hyundai Ioniq 5 Robotaxi
Tuesday, August 31, 2021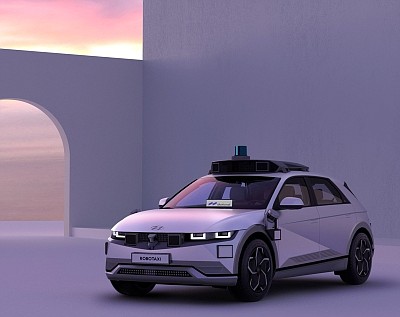 A driverless taxi service using Hyundai's Ioniq 5 electric SUV will soon be set into motion.
Hyundai Motor Group and driverless tech developer Motional on Tuesday revealed a robotaxi based off of Hyundai's all-electric Ioniq 5. The vehicle boasts more than 30 sensors and a level 4 designation.
The level rating means the vehicles are able to operate without a driver in most cases. Autonomous vehicles are rated in levels, ranging from zero to five, indicating how much autonomy the vehicles have from an actual driver.
Fountain Valley-based Hyundai Motor America Inc.'s parent, through a joint venture with connected vehicle tech firm Aptiv, formed Motional in 2020 to focus specifically on developing driverless technologies.
The Ioniq 5 robotaxis are expected to begin being used in partnership with Lyft in 2023 in select U.S. markets.