2020 OC 500
STEVE JONES
Thursday, April 29, 2021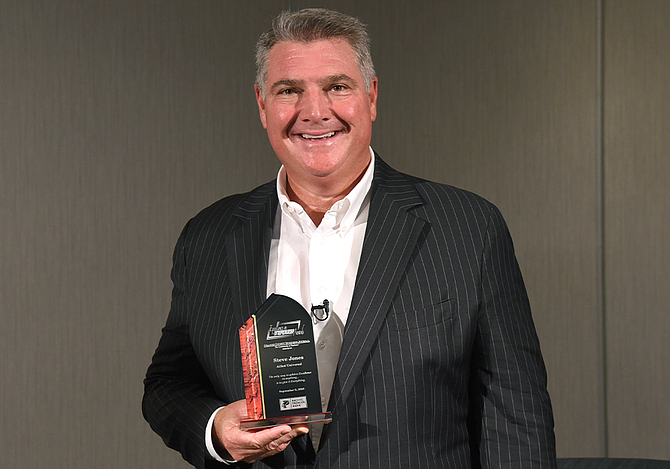 CHIEF EXECUTIVE, ALLIED UNIVERSAL
DAY JOB: Took a company that generated $12 million in 1996 to $8.5 billion. Runs the nation's largest private security force. Built Allied Universal into a firm with 235,000 employees securing 42,000 sites; provides security for about a quarter of the Fortune 500 companies, CEOs and their families. 
MAKING A DIFFERENCE: Allied was at the forefront of the battle against the coronavirus. Its guards were at hospitals in hard-hit cities like New York and New Orleans, where they helped ensure that people with symptoms were screened and given the right instructions before healthcare workers take over. One of biggest employment pushes in the country announced in April. Was looking to add an additional 30,000 workers by end of June— roughly the number of workers at Disneyland, OC's largest employer. Late May "drive-by" open house in Orange aimed to find 100 new hires. 
NOTABLE: Jones keeps abreast of the pandemic's status by reading reports from his company executives and from Homeland Security. He's following leading metrics such as the number of people entering hospitals with the virus. "New York is starting to bend the curve," he said on April 10, a few days before it became public news. 
QUOTABLE: "Before you get into (the) hospital, a security officer is asking you questions, sometimes taking temperatures," Jones said in the Business Journal interview. "It's been [incredibly] challenging for us because our employees are on the front lines." 
FAST FACT: Allied, which has made dozens of acquisitions in the past decade, said in April it put on hold three pending acquisitions; it now has its eyes on a huge U.K. firm. "We're conserving all of our cash to make sure our business stays stable," Jones said in April. 
2020 HOBBY: "Yoga and Hot Yoga, helped me get healthy and deal with the stress of 2020."