Midday Stock Roundup
Friday, April 23, 2021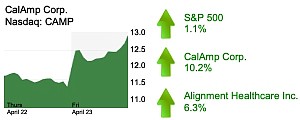 The S&P 500 jumped 1.1% to 4,182.01 in midday trading Friday as major U.S. indexes rose following Thursday's sell off in response to concerns over a capital gains tax increase.
The Dow Jones Industrial Average increased 0.6% to 34,033.14, while the Nasdaq rose 1.5% to 14,022.57.
Crude oil was up 0.7% to $61.86.
Gold was down 0.3% to $1,777.
The yield on a 10-year Treasury increased 0.6% to 1.56%.
TECHNOLOGY
Irvine-based CalAmp Corp. (Nasdaq: CAMP) shares jumped 10.2% to $12.16, a day after reporting results for its fiscal fourth quarter ended Feb. 28, which beat consensus estimates on earnings. The Internet of Things software maker had a recent market cap of $423.9 million
HEALTHCARE
Orange-based Medicare Advantage provider Alignment Healthcare Inc. (Nasdaq: ALHC) rose 6.3% to $24.45 for a market cap of $4.5 billion. The company's stock is up nearly 29% from its IPO late last month.