Midday Stock Roundup
Thursday, April 15, 2021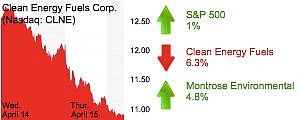 Major indexes surged after the the Commerce Department reported retail sales climbed 9.8% in March and weekly jobless claims fell.
The S&P 500 rose 1% to 4,168.37 in midday trading Thursday.
The Dow Jones Industrial Average climbed 1% to 34,029.61, while the Nasdaq increased 1.2% to 14,020.22.
Crude oil was up 0.1% to 63.23 a barrel.
Gold rose 2% to $1,768.90.
The yield on a 10-year Treasury decreased 5.9% to 1.541%.
SUSTAINABLE ENERGY 
Newport Beach-based Clean Energy Fuels Corp. (Nasdaq: CLNE) fell 6.3% to $11.10 and a $2.2 billion market cap. Shares of Clean Energy, OC's largest public clean tech firm, have risen fivefold from around $2.50 since Joe Biden won the presidency.
TECHNOLOGY SERVICES 
Montrose Environmental Group Inc. (NYSE: MEG) of Irvine rose 4.8% to $55.99 per share and a market cap of $1.5 billion. Shares in the air quality and environmental services company have tripled since its July IPO at $15 a share.