Midday Stock Roundup
Tuesday, April 13, 2021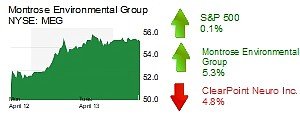 The S&P 500 was up 0.1% at 4,132.90 during midday trading.
The Dow Jones Industrial Average fell 0.5% to 33,576.78.
The Nasdaq climbed 0.6% to 13,933.64.
The yield on a 10-year Treasury bond decreased 1.5% to 1.65%.
The price of gold rose 0.7% to $1,745.
The price for a barrel of oil increased 0.8% to $60.16.
SERVICES
Irvine-based Montrose Environmental Group Inc. (NYSE:MEG), a provider of environmental consulting services,  rose 5.3% to $55.67 per share for a market cap of $1.4 billion. Financial website InvestorsObserver.com said earlier today that "analysts expect the stock to decline 8.46% over the next 12 months."

HEALTHCARE
Irvine-based medical device maker ClearPoint Neuro Inc. (Nasdaq: CLPT) fell 4.8% to $20.45 per share for a market cap of $423 million. SimplyWallSt.com said yesterday that financial analysts "expect the company to post a final loss in 2022, before turning a profit of $9.9 million in 2023." The company's shares have gained 29% since the start of the year.