The Shoe Fits: Boot Barn Expands
BOOT BARN BUCKS RETAIL TRENDS, EXPANDS WITH 'RELENTLESS FOCUS' ON PHYSICAL STORES
Monday, April 12, 2021
Share this article: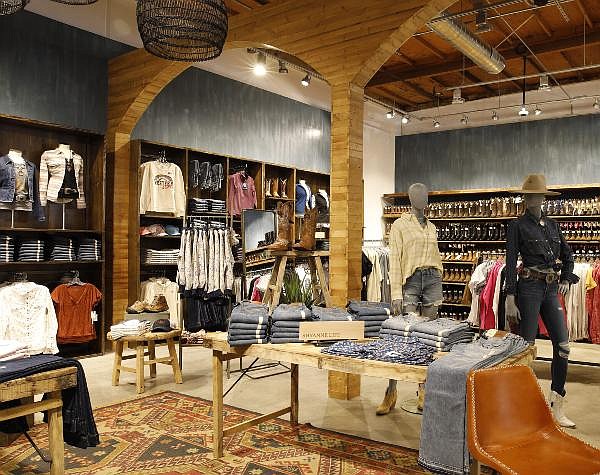 Who knew a 2,000-square-foot Western store in Huntington Beach would grow up to be a publicly traded behemoth with a $1.9 billion market cap, bucking the broader retail meltdown in a big way.
 
Boot Barn Holdings Inc. (NYSE: BOOT) founder Ken Meany likely couldn't have guessed that, but he certainly had the right idea when he opened store No. 1 in 1978. The door, which subsequently moved to Tustin Street, 
relocated again late last month to an expanded 13,000-square-foot store on Katella Avenue in Orange touting a handsome new prototype design with antler chandeliers, area rugs and wood archways. CEO Jim Conroy described the new location and new look as "less like a national chain and more like a local, Western lifestyle store."
 
The new flagship's design bears elements that will be rolled into new and remodeled stores moving forward, as the 271-store chain looks to open around 30 stores annually, with an average size of roughly 11,000 to 12,000 square feet.

They'll be located outside of malls, and are expected to help Boot Barn nearly double its presence over the next decade or so.
 
"We're developing multiple markets at the same time. A lot of new growth in new markets like Pennsylvania, Ohio and Virginia," Conroy said. "We're also filling in markets in California and in Texas."

"We found that while we have 271 stores today, we think we can double that count to 500-plus stores across the country, which does fly in the face of what a lot of other retailers are doing as they continue to shrink their footprint."

"We continue to have so much new success with our stores that we're going to continue to roll it out, and the new store prototype will be a big part of that augmentation," he said.

Same-Store Boost

Boot Barn closed out its last fiscal year ended March 28, 2020 with net income of $47.9 million on revenue of $845.6 million. Same-store sales for that period rose 5%.
 
Last year, while challenging for many, saw a number of the company's stores remain open as essential businesses, selling flame-resistant jackets, coveralls and tops alongside other workwear.
 
Heavy discounting was avoided. Digital, as was the case for many companies, was also up for Boot Barn, but it's not expected to grow to dominate sales. Instead, the typical Boot Barn customer likes coming into the store two or three times a year to feel the different skins on a pair of boots or try on their jeans, Conroy said.
 
The company's stock is now near its all-time high, and is up nearly 50% from early 2020 levels, prior to the pandemic.

Simple Strategy

Clearly, the chain's physical store footprint is growing, not shrinking.
The retailer's strategy is very simple.  

"We have four pieces of the strategy, four pillars," Conroy said.
 
"Our focus is to just execute relentlessly on building new stores, developing our own exclusive brands, continuing to add omnichannel capabilities and drive same-store sales growth," he said.

"I often joke that we can come up with a sexier strategy, or we can just stick to what's been working. And part of my job is to keep everybody focused on what's working, and to not always try to chase the next new, shiny penny."

Testing, Development

That doesn't mean the company doesn't innovate.
 
The split of sales between brick-and-mortar and digital is roughly 80/20. Even with digital growing, so too is the store base. That means the business split over time will largely remain about the same, Conroy said.
 
"That said, our digital capability is very important to us. Certainly, consumers have evolved in how they interact with brands, and they want to see a seamless experience across both channels," he said.
 
"So, we take our digital muscle and everything that we can do online, you can actually do from the store."
 
Free-standing tablets can be found around a Boot Barn store to help customers quickly find merchandise and their size. Last year, the company relied heavily on buy-online, pick-up in store, and curbside services. The company's also been testing and bolstering its same-day delivery capability.
 
"We want to be able to offer customers something that no digital native company can provide, including Amazon, which is we'll give you the opportunity to get a product to anybody across the country, at least where we have stores, within two hours," Conroy said.
 
It's a perk that emerged from COVID, but Conroy said it's a strategic competitive advantage for Boot Barn moving forward against direct competitors and the broad swath of e-commerce players offering next-day or two-day shipping.

Bread and Butter 

The company's also remained focused on its merchandise assortment, catering to the core customer coming to Boot Barn for workwear while also picking up some sales from the fashionista set.
 
"The bread and butter of Boot Barn is functional product. All of the work boots and work apparel have a true function," Conroy explained.
 
"Most of our Western boots and Western denim has a function. Men or women are either working on a ranch, riding horses and they're wearing the product and they wear through it and come back and get another pair.
 
"Now, with that said, we've had some really nice growth recently in ladies' apparel, which has a little more fashion to it."
 
The Boot Barn customer segments total four groups: work, western, country and Wonder West, the latter being the younger, more fashionable segment.
 
Where there are holes in the overall assortment, the company's launched proprietary brands, of which there are five, and sometimes rolled out in partnership with big names.
 
The company's linked with country music artist Brad Paisley on a label called Moonshine Spirit for men, while it works with country artist Miranda Lambert on the women's side of the business with Idyllwind.
 
Next year the company will debut a new men's and women's country line that would fit into its country market segmentation. That is, it's product for someone who may not go to a rodeo or ride a horse, but they'll wear cowboy boots and jeans with, say, a baseball hat instead of a cowboy hat. 
On the Right Path

While some retailers spent much of last year reacting to change or learning what holes they had in their business, 2020 largely reinforced Boot Barn's path and catering to a customer that still loves coming into the store.
 
"What it did for us is it pressure-tested the concept and the strategy of continuing to build more stores because, even in the worst retail environment you can imagine, our stores still performed quite strongly. So that was counter to the rest of retail I recognize, but that was our biggest learning: stick to the model, and our model is really an in-store-preference experience."

Historically, much of how the company has spoken to its focus on the fundamentals of physical retail started from the time of its Huntington Beach founding, on up through acquisitions of competitors that helped quickly expand the store base.
 
Along the way, investors took note.
 
Newport Beach-based Marwit Investment Management LLC bought Boot Barn in 2007, later selling it to Freeman Spogli & Co. in Los Angeles in 2011. Three years later, the company raised $80 million in its initial public offering.
 
Conroy, who came to OC from Chicago, has helmed Boot Barn since 2012 and before that was at accessories retailer Claire's Stores Inc.

Small Competitors

Today, direct competitors to Boot Barn are largely mom-and-pop businesses with two or three stores to their name.
 
"Going forward I would say the vast majority of our growth is in new builds. There aren't a lot of chains left. There's one big chain based in Texas and after that there's nobody that has more than two or three stores in the whole country," Conroy said. "So, we are by far the industry leader. We're a nationally recognized brand now and, while we might acquire a mom and pop that has one store, there's really no mergers or acquisitions of any significant size anymore."
 
It's an anomaly, with a growth plan flying in the face of much of retail today and also because of its rugged, Western aesthetic that was born nowhere near a Texas oil field or ranch.
 
Suffice it to say, Conroy sees plenty of arched eyebrows from some who think Boot Barn headquarters on Barranca Parkway in Irvine is just another of its massive stores.
 
"I think it's lost on a lot of people that we are a local company," the CEO said.
 
"We do a fair amount in the community but somehow even people in Orange County think we're based in Texas. That'd be the only thing that I think is sometimes misunderstood, other than people thinking I work at the store off the 5 [freeway]."

"I don't think they recognize we've been here for 40 years."