Midday Stock Roundup
Wednesday, September 16, 2020
Share this article: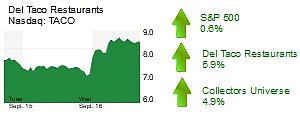 Indexes rose today after the Fed signaled interest rates will stay near zero through 2023.
The S&P 500 increased 0.6% to 3,422.10 in midday trading while the Dow Jones was up 1.1% to 28,295.31 and the Nasdaq climbed 0.3% to 11,221.84.
Crude oil climbed 4.8% to $40.12.
Gold rose 0.1% to $1,968.10.
The yield on a 10-year Treasury was off 1.8% to 0.667%.
RESTAURANTS
Shares of Del Taco Restaurants Inc. (Nasdaq: TACO) jumped 5.9% to $8.64 after releasing preliminary third quarter results. The restaurant operator, with a market cap of $323 million, yesterday said revenue for the quarter ended Sept. 8 was $120.7 million, which topped the average analyst estimate of $113.6 million.
SERVICES
Santa Ana-based collectibles authenticator Collectors Universe Inc. (Nasdaq: CLCT) was up 4.9% to $53.27 and a $507 million market cap. The company on Sept. 14 added three new independent directors, including Kate Duchene, CEO of Resources Connection Inc. (Nasdaq: RGP), an Irvine-based consulting firm.