Midday Stock Roundup
Friday, October 30, 2020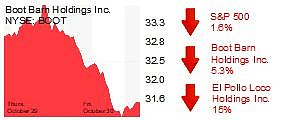 U.S. indices fell Friday amid disappointing results from tech companies, coupled with rising coronavirus cases domestically and new shelter-in-place orders in Europe.
The S&P 500 was off 1.6% to 3,257.9 in midday trading Friday.
The Dow Jones Industrial Average fell 1.1% to 26,368.3, while the Nasdaq dipped 2.4% to 10,918.3.
Crude oil was down 1.9% to $35.48.
Gold was up 0.7% to $1,880.20.
The yield on a 10-year Treasury ticked up 3.2% to 0.9%.
RETAIL
Irvine Western retailer Boot Barn Holdings Inc. (NYSE: BOOT) declined 5.3% to $31.65 for a market cap of $913 million. The company's down about 33% since the start of the year.
RESTAURANTS
OC restaurants slumped Friday, led by Costa Mesa-based El Pollo Loco Holdings Inc.'s 15% decline to $14.89. The chain (Nasdaq: LOCO), with more than 475 locations and a market cap of $535 million, yesterday reported third-quarter sales that missed analysts' consensus estimates.
Chipotle Mexican Grill Inc. (NYSE: CMG) of Newport Beach was down 2.8% to $1,207.56 for a market cap of $34 billion. Huntington Beach-based BJ's Restaurants Inc. (Nasdaq: BJRI) shares fell 2% to $27.88 for a market cap of $621 million. Del Taco Restaurants Inc. (Nasdaq: TACO) of Lake Forest was off 2% to $7.44 for a market cap of $278 million.