Nekter Sees Sales Bounce Back
Monday, October 26, 2020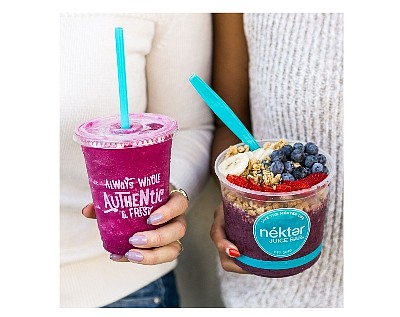 Nekter Juice Bar Inc. said it saw both sequential and year-over-year sales growth in its third quarter, aided by a new campaign and diverse order and delivery options.
The Santa Ana chain said third-quarter sales were up 32% from the prior quarter and rose 3% on a year-ago basis.
Nekter, by year's end, will total nearly 170 doors, with new franchise locations that will expand the brand into markets such as Maryland, Missouri and Montana.
The company's "Project Wellness" campaign, began around the start of the pandemic and was aimed at increased safety measures and its delivery channels to bring awareness around the chain's available options to consumers.
Nekter CEO Steve Schulze said the campaign helped place the brand as a "health and wellness resource" in the markets it operates in.
The company has an app that allows people to place orders online and earn loyalty points. The company's regular website also allows for ordering. More recently, it launched curbside pick-up to work in tandem with the ordering systems as another option for consumers.
Nekter digital sales are now up some 200% and average check size has ticked up more than 30%. The company currently counts more than 700,000 subscribers to its digital platforms.