Chipotle Launches Sustainability Food Tracker
Monday, October 26, 2020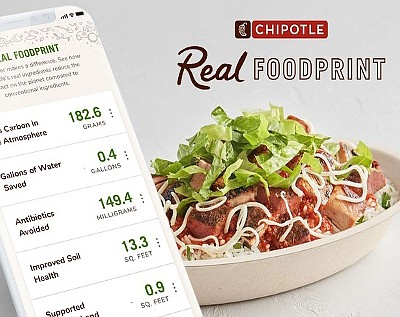 Chipotle Mexican Grill Inc. (NYSE: CMG) launched Monday a food sustainability tracker on its app for its 53 ingredients amid continued growing interest among consumers for transparency from the brands they shop.
The Newport Beach-based company's tracker is taking into account atmospheric carbon, water savings, soil health, organic land support and the antibiotics that are avoided.

The tracker will launch information on the ingredients specific to a customer's order and compares Chipotle's ingredient information to industry averages. The company's tapped scientist Bill Nye to help market Real Foodprint, with an initial TikTok video showing the data on the ingredients for his Chipotle order.
The tracker's information is coming from New York food researcher HowGood, which is making the calculations using Chipotle supplier information, along with data from the United States Department of Agriculture, U.S. Food & Drug Administration and World Health Organization.
Chipotle, with more than 2,700 restaurants, was trading down 2.8% to $1,302.17 in midday trading Monday. The company had a recent market cap of $36 billion.