Midday Stock Roundup
Wednesday, October 7, 2020
Share this article: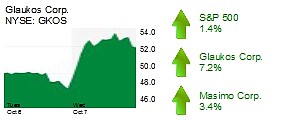 The market was up after President Donald Trump renewed calls for Congress to pass a coronavirus relief package.
The S&P 500 climbed 1.4% to 3,406.42 in midday trading.
The Dow Jones Industrial Average increased 1.5% to 28,201.13 while the Nasdaq jumped 1.7% to 11,222.52.
The yield on a 10-year Treasury bond rose 3% to 0.762%.
Oil fell 3.2% to $39.38.
The price of gold fell 1% to $1,889 per ounce.
MEDICAL DEVICES
Local medical device makers were generally up today.
Masimo Corp. (Nasdaq: MASI) rose 3.4% to $248.33 a share with a $13.7 billion market cap. The Irvine-based medical device maker yesterday reported preliminary third-quarter product revenue ranged from $274 million to $278 million, topping the $243.7 million average estimate of eight analysts.
San Clemente-based Glaukos Corp. (NYSE: GKOS) shares jumped 7.2% to $52.43 and a $2.4 billion market cap. Inari Medical Inc. (Nasdaq: NARI) rose 6.7% to $76.34 and a $3.7 billion market cap.
Irvine-based Edwards Lifesciences Corp. (NYSE: EW) was up 3.1% to $80.99 for a market cap of $52.4 billion, the highest of any publicly traded company in Orange County.
ICU Medical Inc. (Nasdaq: ICUI) of San Clemente was up 2.3% to $186.27 and a $3.9 billion market cap.