Midday Stock Roundup
Wednesday, November 4, 2020
Share this article: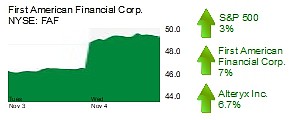 Indexes jumped as yesterday's national election appears to confirm a divided U.S. government will continue.
The S&P 500 climbed 3% to 3,470.85 while the Dow Jones Industrial Average was up 2.5% to 28,171.19 and the Nasdaq jumped 4% to 11,607.47.
Crude oil climbed 3.6% to $39.
Gold fell 0.8% to $1,895 an ounce.
The yield on a 10-year Treasury declined 11% to 0.781%.
REAL ESTATE
First American Financial Corp. (NYSE: FAF) rose 7% to $49.13 and a $5.5 billion market cap. The Santa Ana-based provider of title insurance yesterday boosted its quarterly dividend by two cents to 46 cents a share and today announced it has approved a new share repurchase plan for up to $300 million of its common stock.
TECHNOLOGY
Shares of Irvine-based Alteryx Inc. (NYSE: AYX) rose 6.7% to $136.63 and a $9.7 billion market cap. Zacks Equity Research today said Alteryx's third-quarter earnings report, scheduled for release tomorrow, may surprise investors, citing favorable earnings revisions by analysts.
RESTAURANTS
Chipotle Mexican Grill Inc. (NYSE: CMG) was up 6.1% to $1,283.33 and a $36 billion market cap. Shares of the Newport Beach-based restaurant chain have tripled since their 52-week low in March.