Midday Stock Roundup
Thursday, May 28, 2020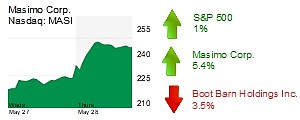 The S&P 500 rose 1% in midday trading to 3,065.42.
The Dow Jones Industrial Average increased 0.7% to 25,714.54.
Nasdaq was up 1.1% to 9,512.60.
Crude oil was 3.4% higher to $33.90 a barrel.
The price of gold ticked 0.3% up to $1,733 an ounce.
The yield on a 10-year bond increased 3.4% to 0.7%.
HEALTHCARE
Masimo Corp. (Nasdaq: MASI) rose 5.4% to $236.27 a share with a $12.7 billion market cap. The device maker yesterday said it signed a licensing deal with Royal Philips (NYSE: PHG) to add some Masimo products to Philips' patient monitoring platforms.
RETAIL
Boot Barn Holdings Inc. (NYSE: BOOT) fell 3.5% to $24.33 a share with a $701 million market cap. The western wear retailer was Zack's bear of the day Tuesday, but shares are up 20% this week.