Midday Stock Roundup
Thursday, May 14, 2020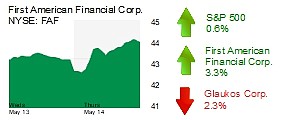 The S&P 500 was up 0.6% to 2,836.64 in midday trading.
The Dow Jones Industrial Average rose 1% to 23,482.01.
The Nasdaq moved up 0.1% to 8,869.32.
Crude oil leapt 7% to $27 a barrel.
The price of gold increased 1.4% to $1,741.
The yield on a 10-year bond fell 5.7% to 0.61%.
FINANCE
Santa Ana's First American Financial Corp. (NYSE: FAF) gained 3.3% to $44.30 a share with a $4.93 billion market cap. The provider of title insurance yesterday made a virtual presentation at the Susquehanna 2020 Housing Forum. Volume was less than half of the daily trading volume of 1.37 million.
HEALTHCARE
San Clemente-based Glaukos (NYSE: GKOS) the maker of minimally invasive ophthalmic devices, fell 2.3% to $34.90 a share with a $1.53 billion market cap. Shares have declined 17% since May 7 when it reported first quarter revenue and earnings that missed analysts' consensus estimates and it withdrew its 2020 guidance.
Newport Beach-based Evolus Inc. (Nasdaq: EOLS) collapsed 7.6% to $3.70 a share at midday trading with a $123 million market cap. Analysts have trimmed their 2020 revenue forecast to $37 million on average, down from a prior estimate of $63 million, according to the website Simply Wall Street. Evolus makes aesthetic pharmaceuticals to minimize fine lines and wrinkles.