Midday Stock Roundup
Friday, May 1, 2020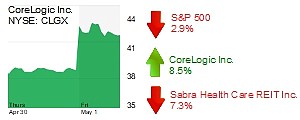 Indexes fell today after tech giants Apple Inc. and Amazon.com Inc. yesterday reported results affected by the coronavirus.
The S&P 500 was down 2.9% to 2,829.35 in midday trading Friday.
The Dow Jones Industrial Average fell 2.4% to 23,763.06, while the Nasdaq was off 3.4% to 8,590.87.
Crude oil rose 1.8% to $19.17.
The price of gold was up 0.4% to $1,700.80.
The yield on a 10-year Treasury bond rose 0.6% to 0.63%.
HEALTHCARE
OC healthcare real estate companies were trading down Friday.
That was led by Irvine-based Sabra Health Care REIT (Nasdaq: SBRA), off 7.3% to $11.88 for a market cap of $2.4 billion.
Irvine healthcare REIT Healthpeak Properties Inc. (NYSE: PEAK) was down 3.5% to $25.23 for a market cap of $12.8 billion. Meanwhile, San Juan Capistrano-based nursing home owner-operator Ensign Group Inc. (Nasdaq: ENSG) shares were down 3.5% to $36.09 for a market cap of $1.9 billion.
The benchmark FTE NAREIT Equity Health Care Index was down 6% today.
TECHNOLOGY
Irvine-based CoreLogic Inc. (NYSE: CLGX) was up 8.5% to $41.70, a day after reporting revenue and net income growth in its first-quarter results. The property information and analytics company had a recent market cap of $3.3 billion. "CoreLogic reported an outstanding operating and financial performance in the first quarter," Chief Executive Frank Martell said in a statement.