Midday Stock Roundup
Friday, March 27, 2020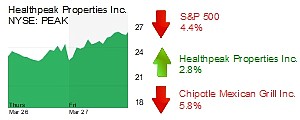 Major U.S. indexes fell back Friday, following a three-day rally as Congress passed the $2 trillion stimulus package and sent it to President Trump for his signature.
The S&P 500 was down 3.2% to 2,544.79.
The Dow was off 3.5% to 21,770.87, while the Nasdaq fell 3.3% to 7,540.70.
Oil slipped 6% to $21.24.
Gold was off 1.6% to $1,625.
The yield on a 10-year Treasury bond sank 9.3% to 0.74%.
RESTAURANTS
Newport Beach-based Chipotle Mexican Grill Inc. (NYSE: CMG) was down 5.8% to $622.73 for a market cap of $17.3 billion. CEO Brian Niccol outlined to Yahoo Finance Friday what the restaurant chain was doing in response to the coronavirus, including free delivery in March and bonuses to motivate hourly workers.
Restaurants have been hit hard by stay-at-home orders that have shuttered dining rooms, with many down Friday, including Lake Forest-based Del Taco Restaurants Inc. (Nasdaq: TACO) down 9.5% to $3.80 for a market cap of $141 million and Costa Mesa-based El Pollo Loco Holdings Inc. (Nasdaq: LOCO) off 11% to $7.84 for a market cap of $275 million.
HEALTHCARE
Irvine-based healthcare REIT Healthpeak Properties Inc. (NYSE: PEAK) continued its rise this week, up 2.8% to $24.99. The company, with a market cap of $12.6 billion, on Tuesday provided an update in response to the COVID-19 pandemic. That plan ranged from 14-day quarantine measures at its facilities to its construction pipeline.