Midday Stock Roundup
Thursday, March 26, 2020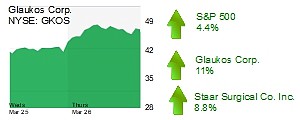 Indexes rose in midday trading on passage of the $2 trillion coronavirus relief package in the Senate and despite the massive increase in jobless claims.
The S&P 500 was up 4.4% to 2,584.20; the Dow Jones Industrial Average 4.9% to 22,240.87; the Nasdaq 3.1% to 7,613.85.
Crude oil declined 5% to $23.26 a barrel.
The price of gold rose 1.4% to $1,655 per ounce.
The yield on a 10-year bond fell 6.6% to 0.80%.
HEALTHCARE
San Clemente-based Glaukos Corp. (NYSE: GKOS) increased 11% to $35.90 a share with a $1.6 billion market cap. The glaucoma treatment drug and device maker issued its COVID-19 update this week.
Staar Surgical Co. (Nasdaq: STAA) in Lake Forest gained 8.8% to $30.45 a share with a $1.4 billion market cap. The company develops and sells implantable lenses for the eye.
FINANCE
First Foundation Inc. (Nasdaq: FFWM) rose 11% to $10.11 a share and a $452 million market cap. In a Barron's report this week, a D.A. Davidson analyst said the Irvine-based bank and wealth manager is a stock to consider amid the coronavirus market decline as it has a "greater magnitude of opportunity" to cut costs and currently trades below tangible book value.