Midday Stock Roundup
Wednesday, March 25, 2020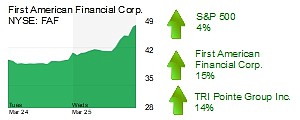 Indexes rose in midday trading as Congress prepared to pass a $2T coronavirus relief stimulus package.
The S&P 500 was up about 4% to 2,536.03; the Dow Jones Industrial Average more than 5% to 21,779.04; and the Nasdaq 2% to 7,566.75.
The yield on a 10-year Treasury bond rose 1.8% to 0.83%.
The price of gold dipped 1.5% to $1,635.
A barrel of oil rose 2% to $24.48.
Amid generally higher moves by indexes, healthcare property owners—a particularly volatile market segment over the last month—saw shares rise, while two of the larger bumps for OC firms included finance- and homebuilding-related enterprises.
FINANCE
First American Financial Corp. (NYSE: FAF), offering financial services and title and specialty insurance from its Santa Ana headquarters, jumped 15% to $45 a share and a $5.1 billion market cap.
REAL ESTATE
Developer and builder TRI Pointe Group Inc. (NYSE: TPH) in Irvine rose 14% to nearly $10 a share and a $1.3 billion market cap.