Midday Stock Roundup
Monday, March 23, 2020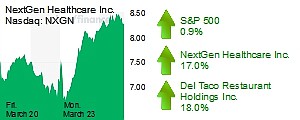 The S&P 500 was up 0.9% to 2,284.36 during midday trading.
The Dow Jones Industrial Average increased 1.3% to 18,920.67.
The Nasdaq rose 0.5% to 6,915.07.
The yield on a 10-year bond dropped 21% to 0.75%.
Crude oil was down 0.4% to $22.55 a barrel.
Gold rose 4.9% to $1,557.
HEALTHCARE
Irvine-based NextGen Healthcare Inc. (Nasdaq: NXGN) rose 17% to $8.34 and a $551 million market cap. Shares for the software company, which makes healthcare information systems, are up 64% since reaching a 52-week low of $5.10 last week.
RESTAURANTS
Restaurants were among top-moving sectors Monday, with Del Taco (Nasdaq: TACO) leading gains. Shares for the Lake Forest fast food chain surged 18% to $3.08 and a $117 million market cap. Trading volume for the company was up 72%.
BJ's Restaurants Inc. (Nasdaq: BJRI) was up 12% to $9.16 and a $176 million market cap. Trading volume was up 47% for the Huntington Beach restaurant operator.
The S&P 600 Restaurant Index increased about 9% during midday trading.