Midday Stock Roundup
Friday, March 20, 2020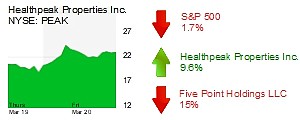 Major U.S. indices were off Friday as California and New York further limited movement to stifle spread of the coronavirus.

The S&P 500 was down 1.7% to 2,369.42, while the Dow dropped 1.1% to 19,864.76. The Nasdaq was off 1% to 7,084.56.
Oil sank 9.6% to $22.81 a barrel, while gold rose 0.7% to $1,489.
The yield on a 10-year Treasury bond slipped 13.9% to 0.96%.
HEALTHCARE
Irvine real estate investment trust Healthpeak Properties Inc. (NYSE: PEAK) was up 9.6% to $22 for a market cap of $11 billion while Sabra Health Care REIT Inc. (Nasdaq: SBRA), also based in Irvine, rose 17% to $9.34 and a $1.9 billion market cap. San Clemente's CareTrust REIT (Nasdaq: CTRE) climbed 7.6% to $13.29 and a $1.3 billion market cap. CareTrust today announced a $150 million share buyback program.
The FTSE NAREIT Equity Health Care Index is up 6.4% today.

REAL ESTATE
Irvine developer Five Point Holdings LLC (NYSE: FPH) fell back 15% to $4.17, a day after the stock popped as much as 48% on news of major shareholder Luxor Capital Group's 1.1 million-share stock purchase. Five Point had a recent market cap of $611 million.