Midday Stock Roundup
Thursday, March 19, 2020
Share this article: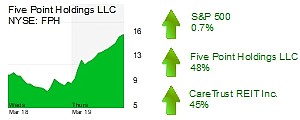 Markets took a deep breath today.
The S&P 500 and Dow Jones Industrial Average each rose 0.7%, to 2,413.93 and 20,047.11, respectively, while the Nasdaq jumped 3% to 7,190.22.
A barrel of oil soared 22% higher to $24.82.
The price of gold was up 0.1% to $1,488 per ounce.
The yield on a 10-year bond dropped 12% to 1.12%.
REAL ESTATE
Five Point Holdings LLC (NYSE: FPH) of Irvine jumped 48% to $5.70 a share to an $815 million market cap. A filing showed New York-based Luxor Capital hedge fund boosted its holding in the land developer, which owns Irvine's Great Park Neighborhoods project.
HEALTHCARE
San Clemente-based CareTrust REIT Inc (Nasdaq: CTRE) was 45% higher to $11.60 a share for a $1.1 billion market cap. The FTSE Nareit Equity Health Care index today rose 14%.
Glaukos Corp. (NYSE: GKOS) fell 9% to $28.50 and a $1.2 billion market cap. The San Clemente-based company makes and sells drugs and devices to treat glaucoma.
NextGen Healthcare (Nasdaq: NXGN) climbed 34% to $7.74 a share and $505 million market cap. The Irvine-based software maker for medical practices said its platform can enable virtual doctor visits.