Midday Stock Roundup
Thursday, March 12, 2020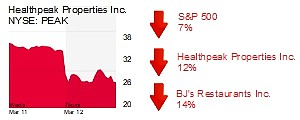 Indexes dropped big after President Trump banned European visitors to the U.S. for 30 days. U.S. professional sports leagues and global transportation enterprises—airlines and cruise lines—continued to curtail operations. U.S. Federal Reserve actions in midday trading temporarily boosted indexes, which are still down more than 7% apiece.
The S&P 500 was recently at 2,541.44; the Dow Jones Industrial Average at 21,717.74; the Nasdaq 7,365.51. The three are each down more than 20% since mid-February, making it a bear market.
The yield on a 10-year Treasury bond rose 9% to 0.81%.
The price of gold was 3% lower at $1,592.
A barrel of oil fell 6% to $30.95.
HEALTHCARE
Companies that own health-related properties saw big declines today after President Trump's speech last night. Healthpeak Properties Inc. (NYSE: PEAK) fell 12% to $25.60 and a $12.8 billion market cap; Sabra Health Care REIT (Nasdaq: SBRA) fell 22% to $10.40 and a $2.1 billion market cap; CareTrust REIT Inc. (Nasdaq: CTRE) dropped 20% $13.63 and a $1.3 billion market cap
RESTAURANTS
OC-based restaurants continued to see large drops. BJ's Restaurants Inc. (Nasdaq: BJRI) fell 14% to $18.47 and a $355 million market cap. Chipotle Mexican Grill Inc. (NYSE: CMG) declined 8.7% to $589.96 and a $16.4 billion market cap. Del Taco Restaurants Inc. (Nasdaq: TACO) dropped 13% to $4.11 and a $152 million market cap.
Since about Feb. 20, Chipotle, OC's second-largest public company by market cap, has seen a 36% share drop while BJ's has dropped 58% in the same period. Del Taco shares are off 47%.