Midday Stock Roundup
Thursday, March 5, 2020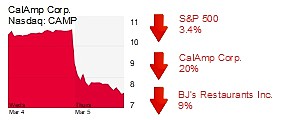 Markets continued their declines today, reflecting fears about the economy slowing because of the coronavirus.
The S&P 500 dropped 3.4% to 3,024.44, the Dow Jones Industrial Average fell 3.5% to 26,132.20 and the Nasdaq declined 2.9% to 8,755.95.
The yield on a 10-year Treasury bond fell 6.5%, dropping to 0.93%
The price of gold climbed 1.5% to $1,668.
A barrel of oil was 1.1% lower at $46.25.
TECHNOLOGY
CalAmp Corp. (Nasdaq: CAMP) plummeted 20% to $7.91 and a $270 million market cap. The Irvine-based provider of telematics and tracking products for auto fleets lowered its revenue guidance for the fourth quarter that ended Feb. 29, citing the effect of the coronavirus in China on its supply chain.
RESTAURANTS
Four Orange County-based restaurant chains also saw large drops today. Huntington Beach-based BJ's Restaurants Inc. (Nasdaq: BJRI) fell 9% to $29.93 and a $575 million market cap while Costa Mesa's El Pollo Loco Holdings Inc. (Nasdaq: LOCO) also dropped 9% to $12.15 and a $442 million market cap. Newport Beach's Chipotle Mexican Grill Inc. (NYSE: CMG) fell 5.3% to $729.29 and a $20.3 billion market cap while Lake Forest's Del Taco Restaurants Inc. (Nasdaq: TACO) declined 6.7% to $5.64 and a $210 million cap. The S&P 600 Restaurant Index today dropped 7.3%.