Midday Stock Roundup
Wednesday, March 4, 2020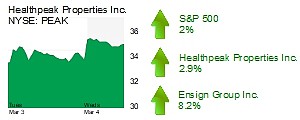 Markets recovered in midday trading from declines last week and yesterday, following Super Tuesday results.
The S&P 500 rose 2% to 3,063.64; the Dow Jones Industrial Average 2.4% to 26,504.70; the Nasdaq 1.8% to 8,843.95.
The yield on a 10-year Treasury bond fell 5%, dropping below 1% to 0.96%
The price of gold was flat at $1,644.
A barrel of oil was 0.4% lower at $47.01.
HEALTHCARE
Medical facility REITs—holding skilled nursing, assisted living, high-end medical offices and other properties—were strong amid the general market resurgence this morning.
Irvine-based Healthpeak Properties Inc. (NYSE: PEAK) rose 2.9 % to $34.19 and a $17.3 billion market cap; OC's largest healthcare REIT and third largest publicly traded company overall was scheduled to present at a Citi global property conference this week. Sabra Health Care REIT Inc. (Nasdaq: SBRA), also in Irvine, was up 5.3% to $20.65 and a $4.2 billion market cap. It said last week it expects to make $159 million in acquisitions this year, with about half of that invested so far.
San Juan Capistrano-based Ensign Group Inc. (Nasdaq: ENSG) climbed 8.2% to $45.47 and a $2.5 billion market cap. It bought two skilled nursing properties yesterday in Colorado. CareTrust REIT Inc. (Nasdaq: CTRE) in San Clemente was 2.6% higher to $22.37 and a $2.1 billion market cap. Its shares are up 10% year-to-date.