Midday Stock Roundup
Monday, June 29, 2020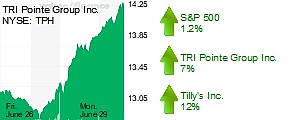 Stocks rose during Monday midday trading after a new housing report showed a record monthly gain in pending sales.
The S&P 500 was up 1.2% to 3,044.64; the Dow Jones Industrial Average rose 1.9% to 25,486.88; and the Nasdaq ticked up 0.9% to 9,850.18.
Crude oil increased 2.9% to $39.60, while gold nudged 0.1% higher to 1,781.60.
The yield on a 10-year Treasury bond was up 1.4% to 0.65%.
REAL ESTATE
Orange County's residential real estate companies followed positive nationwide trends, with TRI Pointe Group Inc. (NYSE: TPH) rising 7% to $14.23 and a $1.9 billion market cap. Shares for the company, the county's largest public homebuilder, are up 58% in the last three months.
Irvine developer FivePoint Holdings LLC (NYSE: FPH) increased 3% to $4.61 and a $687 million market cap.
RETAIL
Retailers also saw sharp increases during midday trading, led by Irvine-based Tilly's (NYSE: TLYS), which was up 12% to $6.02 and a $177 million market cap. Shares have rallied 43% in the past three months since the start of the COVID-19 pandemic. However, they are still down 50% since the start of the year.
Irvine Western-inspired retailer Boot Barn Holdings Inc. (NYSE: BOOT) also got a boost, rising 10% to $21.64 and a $622 million market cap.