Midday Stock Roundup
Thursday, June 25, 2020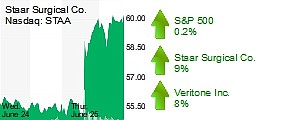 The S&P 500 was up 0.2% to 3,056.1 at midday trading.
The Dow Jones Industrial Average also increased by 0.2% to 25,500.8.
Nasdaq moved up 0.3% to 9,939.2.
Crude oil rose 0.3% to $40.80 a barrel.
The price of gold increased 1% to $1,783.50 an ounce.
The yield on a 10-year bond fell 2% to 0.7%.
MEDICAL DEVICES
STAAR Surgical Company (Nasdaq: STAA) leapt 9% to $60 a share with a $2.72 billion market cap. at midday trading. Trading volume was more than five times the daily average of 483,000. Shares of the Lake Forest-based manufacturer of implantable eye lenses have more than doubled since March.
NextGen Healthcare Inc., (Nasdaq: NXGN) increased 3% to $10.72 a share with a $709 million market cap. Trading volume was about a quarter of the average 426,051 daily volume. The Irvine-based company recently partnered with Capital Women's Care in the mid-Atlantic region to offer virtual visits in women's care.
TECHNOLOGY
Veritone Inc., (Nasdaq: VERI) surged 8% to $18.21 a share with a $493 million market cap. A Zacks Analyst blog post earlier today cited Veritone as one of five stocks to buy in the second quarter. The shares hit a 52-week low of $1.22 in March.