Midday Stock Roundup
Monday, June 22, 2020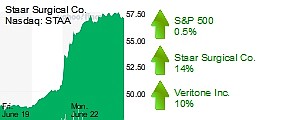 The S&P 500 and Dow Jones Industrial Average ticked 0.5% higher during Monday midday trading to 3,115.84 and 26,002.34, respectively, while the Nasdaq rose 0.9% to 10,038.13.
Crude oil increased 0.8% to $40.06; gold also rose 0.8% to $1,767.
The yield on a 10-year Treasury bond dipped 0.4% to 0.69%.
HEALTHCARE
Lake Forest-based medical device maker Staar Surgical Company (Nasdaq: STAA) continued last week's gains, seeing a 14% jump in midday trading to $57.90 and a $2.6 billion market cap. Shares, currently trading at more than three times their typical volume, are up nearly 30% in the past week, and 67% since the start of the year.
TECHNOLOGY
Costa Mesa-based Veritone Inc., (Nasdaq: VERI) rose 10% to $18.60 a share with a $505 million market cap. Shares for the company, which is trying to break into the artificial intelligence for media market, are up about nine times their value three months ago. The company announced appointments Monday in communications and marketing departments, and noted that the firm is continuing efforts to expand in new markets in the U.S., Europe and Asia.