Midday Stock Roundup
Friday, June 19, 2020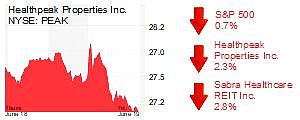 Apple Inc.'s (Nasdaq: AAPL) plans to close 11 stores in Florida, Arizona, North Carolina and South Carolina on increasing COVID-19 cases there sent stocks down in midday trading Friday.
The S&P 500 fell 0.7% to 3,094.2.
The Dow Jones Industrial Average was off 0.9% to 25,851.7, while the Nasdaq was down 0.3% to 9,918.7.
Crude oil rose 1.7% to $39.51, while gold climbed 1.3% to $1,753.90.
The yield on a 10-year Treasury bond rose 0.4% to 0.7%.
HEALTHCARE
Irvine real estate investment trust Healthpeak Properties Inc. (NYSE: PEAK) shares were off 2.3% to $27.34 for a market cap of $14.7 billion.
Other OC healthcare-related real estate companies to see declines, include Sabra Healthcare REIT Inc. (Nasdaq: SBRA) of Irvine, which fell 2.8% to $14.88 for a market cap of $3.1 billion. San Juan Capistrano nursing home owner-operator Ensign Group Inc. (Nasdaq: ENSG) was down less than 1% to $41.95 for a market cap of $2.2 billion.
Lake Forest-based medical device maker Staar Surgical Company (Nasdaq: STAA) continued its rise this week, up 3.8% to $48.47 for a market cap of $2.2 billion. Jefferies this week launched coverage of Staar with a buy rating and $55 price target.