Midday Stock Roundup
Friday, June 12, 2020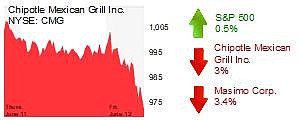 Stocks on Friday recovered some from Thursday's fall on renewed concerns over the coronavirus.
The S&P 500 rose 0.5% to 3,018.2 in midday trading Friday.
The Dow Jones Industrial average was up 0.9% to 25,354.1,while the Nasdaq increased 0.3% to 9,523.6.
Crude oil was off 0.4% to $36.21.Gold was up 0.4% to $1,746.50.
The yield on a 10-year Treasury jumped 6.7% to 0.7%.  
RESTAURANTS
Newport Beach-based Chipotle Mexican Grill Inc. (NYSE: CMG) continued its slide from Monday, down 3% to $969.97. The company, which had a recent market cap of $27 billion, is still up for the year by 13%.  
HEALTHCARE
Masimo Corp. (Nasdaq: MASI) shares fell 3.4% to $213.37 for a market cap of $11.6 billion. The Irvine-based medical device maker was trading at about a third of its average daily volume.
Other local medical device makers also fell Friday,including OC's largest publicly-traded company Edwards Lifesciences Corp. (NYSE: EW). The Irvine heart valve maker was down 1.3% to $67.19 for a market capitalization of $43billion. Glaukos Corp. (NYSE: GKOS) of San Clemente was down 1% to $37.33 for a market cap of$1.7 billion. San Clemente-based ICU Medical Inc. (Nasdaq: ICUI) was off 2.2%to $176.30 for a market cap of $3.7 billion.